My little children, let us not love in word, neither in tongue; but in deed and in truth.         
__1 John 3:18 (NKJV) 
God created all of us with the potential of becoming winners who make a positive impact on those around us and the world in which we live. Therefore, we have to back up our love with our actions. Love is an action word!
Love is more than what we say. Love is action. Love is conduct. Love is a behavior. We have to love one another with the God kind of love. God's love is a higher quality of love. It is a higher level of love. God's love is a type of love that will make a difference in our lives and in the lives of others. God's love expresses itself in action to others.
 We need to act like love acts to be a winner in life. To be a winner in life, walk in love daily. When it comes to love, action is what separates the winners from the losers. You can say, "I love you" all day long, but you have to show your love by your actions. Actions speak louder than words. Love acts its way into feelings. Actions determine feelings. Vine's Expository Dictionary describes Agape love as the love [that] can be known only from the actions it prompts.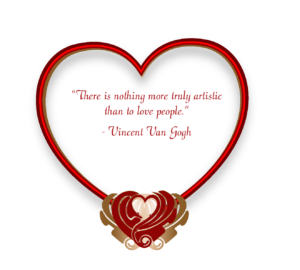 Love is all about how we treat other people. A winner knows how to treat other people. When it comes to love, winners don't have to knock other people down or gain at the expense of others. Winners love unconditionally. They give of themselves freely, not expecting anything in return every time they do something for someone else.
Love is about relationships. It is about how we get along with others. Love is the key to happy relationships. Love enables us to have more influence with others. It enables us to have peace without understanding and joy unspeakable. Love enables us to have a great impact on others.
If we walk in love the way the Bible commands us to, and treat people the way God wants us to treat them, how different would our marriages, families, and businesses be?
"Don't treat people the way they treat you. Treat people the way God treats you."
__Dave Willis